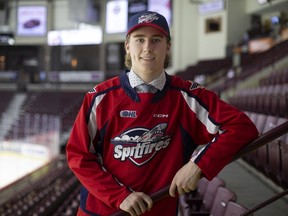 Article content
The Ontario Hockey League's top offensive team needs to put some work in on defence.
Article content
The Windsor Spitfires escaped a run-and-gun battle with the Barrie Colts for an 8-7 road victory on Saturday, but the club was not so lucky on Sunday in a 9-5 loss to the Generals in Oshawa.
Article content
"(Sunday) was the first time in a long time I had a lot of emotion in the dressing room," Spitfires' head coach Marc Savard said. "Saturday was the one where you thought it happens once in a while and found a way to win and (Sunday) just buckle down, but there were glaring mistakes."
Barrie was an honourable mention last week in the Canadian Hockey League's top 10 rankings, which had Windsor at No. 9, but the Generals are struggling to get into a playoff spot in the Eastern Conference.
"I just think we took them lightly and they played a great team game and we didn't give our best effort and it showed," Spitfires' captain Matthew Maggio said.
Article content
Windsor had not allowed 16 goals in back-to-back games since 2019 when the club fell 5-1 to Peterborough on Feb. 28 and then lost 11-4 to Guelph on March 1.
"It was a lack of commitment to defence and willingness to play the right way," Maggio said. "We had a heart-felt talk after the game and know we need to really pick it up for the next stretch of games."
Tecumseh's Ryan Gagnier, Calum Ritchie and Ryder McIntyre staked Oshawa to a 3-0 lead after the first period against the Western Conference-leading Spitfires.
"It's not how we play," Savard said. "We've got some work to do."
The Spitfires have plenty of offence to get back into a game and pulled to within two goals on four occasions, but miscues kept allowing the Generals to remain in control of the game.
Article content
"We know we have the group to come back, and we've shown all year we have to offence to never be counted out in a game, but I don't think we played the right way trying to get back and it cost us," Maggio said.
Rookie Liam Greentree got Windsor to with 3-1, but Luca D'Amato responded to restore Oshawa's two-goal lead.
Maggio would score twice to move to the top of the league with 34 goals, but Stuart Rolofs and Dylan Roobroeck countered each goal and Joseph Serpa pushed the Oshawa lead to 7-3 after 40 minutes.
"Once in a while it will happen, but if we can all buy into team defence, we're still going to score," Savard said.
An Oshawa native, Greentree scored twice in a span of 26 seconds to pull the Spitfires to within 7-5 and notch his first career OHL hat-trick.
Article content
"Getting my hat-trick was so exciting and doing it in front of my friends and family, in my hometown, made it so special and will definitely be a core memory," Greentree said.
Again, the Spitfires could not put any further pressure on the Generals, who got a pair of goals from Cameron Butler down the stretch, including one into an empty net, to seal the victory
"We'll figure it out," said Savard, whose team fell for just the fourth time in the last 20 games. "Everyone needs to have a look in the mirror. We'll be fine here and we'll tighten up defensively because we know we have to."
On Saturday, Colton Smith scored the winner midway through the third period in a wild game that saw Windsor extend its winning streak to six games.
Article content
Brett Harrison scored his second career hat-trick and first with the Spitfires while recording a career-high five points. Rookie defenceman Anthony Cristoforo had the first multi-goal game of his career while also posting his first career four-point game.
Maggio and Alex Christopoulos also scored for Windsor while goalie Joey Costanzo made 31 saves to extend his personal winning streak to 11 games before taking the loss on Sunday.
Spits bits
The Spitfires played Sunday's game with just 18 players, which is two under the game limit.
Defenceman Daniil Sobolev was out after suffering a lower-body injury in Saturday's win against Barrie while forward Oliver Peer sat out Sunday's game with an illness.
Forward/defenceman James Jodoin sat out the final game of a two-game suspension on Sunday for picking up his fourth fighting major this season.
Article content
The club reached down to its junior B affiliate to recall forward Wylie Birkett for Sunday's game. A ninth-round pick by the Spitfires in 2020, it was the 18-year-old Birkett's first game with the Spitfires this season.
twitter.com/winstarparker
Game Summary
Sunday Result
Generals 9 Spitfires 5
Windsor 0 3 2 – 5
Oshawa 3 4 2 – 9
First period: 1. Oshawa, Gagnier 18 (Ritchie, Sennecke) 7:08, 2. Oshawa, Ritchie 17 (Serpa, Danford) 18:25, 3. McIntyre 3 (Serpa, Parfenyuk) 18:50. Penalties: Graham O (hooking) 8:38, Serpa O (tripping) 15:02, Maggio W (holding) 16:20.
Second period: 4. Windsor, Greentree 15 (Spellacy) 2:05, 5. Oshawa, D'Amato 4 (Roobroeck, Ritchie) 8:30 (pp), 6. Windsor, Maggio 33 (Smith, De Angelis) 8:46, 7. Oshawa, Rolffs 17 (unassisted) 11:14, 8. Windsor, Maggio 34 (Smith, Wright) 12:01, 9. Oshawa, Roobroeck 7 (Stewart, Butler) 16:36, 10. Oshawa, Serpa 14 (unassisted)) 19:20. Penalties: Cristoforo W (tripping) 6:46,  Sennecke O (hooking) 17:08, Spellacy W (cross checking) 19:42.
Article content
Third period: 11. Windsor, Greentree 16 (Morneau) 6:26, 12. Windsor, Greentree 17 (Spellacy, Dionicio) 6:52, 13. Oshawa, Butler 14 (Roobroeck) 10:43, 14. Oshawa, Butler 15 (Gagnier, Roobroeck) 17:11 (en). Penalties: Greentree W (tripping) 2:35, Sennecke O (holding) 8:24.
Game stats – SOG – Windsor 12 11 13 – 36 Oshawa 12 11 7 – 30 Goal (shots-saves) – Windsor: Costanzo (L,15-3-0-1) (12-9), Michelone (18:50 of first period) (11-7), Costanzo (0:00 of third period) (6-5). Oshawa: Bickle (W,3-7-0-1) (36-31). Power play (goals-chances) – Windsor 0-5. Oshawa 1-4. Referees: Chad Ingalls and Dave Lewis. Linesmen: T.J. Hunter and Justin Noble. Att.: 5,882 at Tributes Communties Centre.
Check out our sports section for the latest news and analysis. Care for a wager? Head to our sports betting section for news and odds.